What is an absorption trench?
An absorption trench is simply a trench that is cut into the ground, fitted with piping, rested on gravel and filled back with topsoil. This trench is then used to release sewage waste from toilets and greywater from bathrooms, kitchens and laundry waste.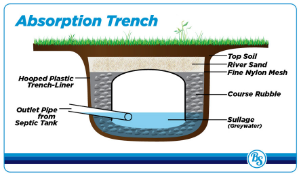 Absorption Trenches are built to suit the purpose of the wastewater requirements of the property they reside on, factors such as required volume and environmental aspects such as soil quality all determine the final characteristics of an absorption trench including depth, length and size.
Absorption Trench Problems?

Let our septic system experts help you.
How long does an absorption trench last?
A number of factors can come into play in determining the lifespan of your absorption trench The absorption trench for your septic tank, if properly installed and maintained, should last in excess of 15 years. However, problems can occur if the installation was faulty, if the perforated pipe which runs through the trench gets clogged or if, for some reason, the effluent waste is prevented from draining efficiently into the surrounding soil or evaporating from the area.

For more information on how a septic system works, check out our guide here: How does a Septic System work?
Absorption trench maintenance
Maintaining your septic tank and absorption trenches is essential to ensuring your septic system functions smoothly and efficiently. Keep heavy machinery and traffic to a minimum in areas where an absorption trench is installed and check the surrounding area for evidence of leaks and unpleasant odours. 
If you notice your Absorption Trench is failing, Express Wastewater Solutions can asses your septic system problems and repair or replace septic absorption trenches on properties across South East Queensland.
Your local septic system specialists
Express Wastewater Solutions can take care of all your septic trench problems quickly and efficiently. We have years of experience working with septic tank systems and wastewater treatment plants contact our team on 1300 722 517 or complete our septic trench repair request form today.

What is an absorption trench?

Let our experts help you.