Sewage Treatment Systems
Sewage and effluent treatment are major considerations for residential and commercial properties alike. At Express Wastewater Solutions, we provide a range of services designed to ensure that the sewage systems at your property are treated and managed efficiently.
We specialise in the installation, service and repairs of an array of sewage systems from Home Sewage Treatment Systems (HSTP) to On-Site Sewage Facility (OSSF) or Aerated Wastewater Treatment System (AWTS) and large-scale commercial and residential sewage treatment systems from market leading brands such as BioCycle, Aqua Nova, Taylex and Earthsafe.
With over 20 years experience in the industry, we are committed to providing our clients with professional and reliable solutions for all their wastewater treatment needs.
Book a Sewage System Expert Today
Call us at 1300 770 594 or fill out the form and we will get in touch with you as soon as possible.
Sewage Systems
Express Wastewater Solutions provides installation, service and repairs for sewage systems, using fully qualified and licensed personnel. A sewage treatment system is designed to use natural processes to break down and treat household sewage, separating solid effluent and removing contaminants, vastly reducing the environmental impact of wastewater disposal.
Home Sewage Treatment Systems are made up of 3 main stages for the treatment of wastewater. These are:
Primary Chamber - contains the grey and black water from your home and holds it until the heavy waste falls to the bottom and a layer of liquid effluent at the top, which then proceeds to the secondary chamber.
Secondary Chamber - called the aeration chamber. This is where wastewater is treated by anaerobic bacteria which feeds on the pollutants. Small bubbles aerate the chamber allowing aerobic bacteria to grow and breakdown the waste.
Third Chamber - the settlement chamber is where the wastewater settles and chlorine, or UV light, is used to remove bacteria from the water.
After these 3 phases of the sewage treatment process, your wastewater is then able to be pumped out to irrigate your garden.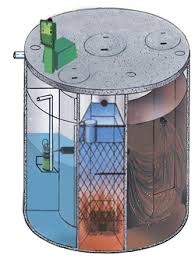 Find out more about how sewage treatment systems work from our information pages:
Sewage System Installation
Express Wastewater are experts when it comes to sewage systems. Whilst many plumbers may install sewage systems along with their other plumbing services, we decided years ago to specialise in wastewater. We are adept in the supply and installation of home sewage treatment plants (HSTP), providing an affordable and efficient sewage treatment plant to treat and dispose of household wastewater.
Our plumbers are all experts and can guide you through the entire process. We supply and install on-site sewage systems all over South-East Queensland.
Our sewage system experts will discuss your needs, review your block characteristics (including soil testing) and design the right system for you. We will then handle all your council approvals and when finalised, install your sewage treatment system installation to the highest standard.
Sewage System Repairs
Whether it is your residential or commercial sewage system that needs repairs, Express Wastewater Solutions have experienced technicians with knowledge of all sewage treatment system types, the leading brands and components. No matter the size of the job, our vehicles are fully stocked, allowing our expert team to complete most repairs there and then, making sure that your system is back up and running efficiently in no time.
It is imperative to have any issue with your sewage treatment system swiftly addressed, as it can save the entire system from a total breakdown. Our technicians strongly believe in exhausting every possible repairable option, in order to avoid upgrading your entire sewage system and creating unnecessary costs.
Our sewage treatment specialists are licensed and insured and will inspect your system and always discuss your repair options with you. So, if your sewage system is in need of repairs, get in touch with Express Wastewater Solutions and our experienced technicians and engineers will be with you soon.
Sewage System Maintenance
Sewage system maintenance is an important part of owning and managing a home sewage treatment system. Sewage treatment systems are designed to process human waste so it is important to be aware of what you are putting into your system.
The likes of cooking fats, oils, food scraps and even 'flushable' wet wipes can block pipes, causing major damage to your treatment system. As a result, it is imperative to have a regular maintenance and servicing plan in place to ensure the smooth running of your system.
Here in Queensland, Home Sewage Treatment Plant (HSTP) servicing needs to be conducted quarterly by licensed wastewater professionals as per the regulations set by the Queensland Government. Keeping your system regularly maintained will help to keep it running optimally and prevent any potential disruptions. Contact us to arrange your maintenance schedule.
Sewage Systems Types
The wastewater treatment industry loves a good name, which results in a lot of confusion about what something is. When we talk about a home sewage system (as opposed to a septic tank), you can also find them called the following:
On-site Sewage Facilities (OSSF)

Aerated Wastewater Treatment Systems (AWTS)

Aerobic Treatment Units (ATU)

Sewage Treatment Unit (STU)

Wastewater Treatment Plant (WWTP)

Aerobic Septic Systems

Wastewater Treatment Systems

Domestic Wastewater Treatment

Residential Wastewater Treatment System
So if you're confused about home sewage systems, we're not surprised. The good news is our sewage system technicians are experts and can guide you through the whole process to get the best system for your needs.
Sewage Systems Brands
Sewage Treatment System Price
There is no one-size-fits-all sewage system. Each block has unique natural features and each home will have different water usage habits which could make one style ideal and another unsuitable. This is why we offer a free 30-minute consultation between you and our sewage system experts to help determine which system is right for your home. However, to give you some idea, you can find out more about the installation and running costs of the different options from our Sewage Treatment System Price Guide .
Local Sewage System Specialists
Express Wastewater Solutions is a local family owned and run plumbing company that specialises in complete sewage treatment solutions Brisbane, Ipswich, Sunshine Coast, Moreton Bay, Logan, Redland, Scenic Rim and Gold Coast regions.
Our aim is to get your sewage treatment issue solved in the best possible, most efficient and most effective way with the least amount of stress to you. For all your sewage system needs in South East Queensland contact our team today at 1300 722 517 or complete the quick online sewage system enquiry form above.
Frequently asked questions
Disadvantages of a sewage treatment plant
What is a land application area?
Sewage Treatment System Types