Opt for a top-quality septic system with Taylex
A family-owned and operated business since 1969, Taylex is one of the most well-known sewage system manufacturers in Australia.
Considering their high industry regard and commitment to developing systems of optimal quality, you can rely on Taylex to provide you with a quality septic system for your premises. In households located in unsewered areas, it's essential to have an on-site wastewater treatment plant.
Following installation by a fully-qualified wastewater treatment professional, these systems can enable the environmentally-sustainable treatment of effluent generated by the household.
Express Wastewater professionals proudly install Taylex sewage systems throughout South East Queensland. Our sewage system experts have extensive experience and can help you choose the best Taylex wastewater treatment system to suit your requirements.
Book A Sewage System Specialist
Call us at 1300 770 594 or fill out the form and we will get in touch with you as soon as possible.
Taylex wastewater treatment plant features
Taylex manufactures more than 2,000 sewage treatment plants per year, covering a wide range of different needs.
Their most popular treatment system is the ABS (Advanced Blower System).
The ABS systems are suitable for 1 to 6 bedroom homes; up to 8 in Queensland. Available in both pre-cast concrete and hardened plastic, the ABS systems have consistently proven to be incredibly durable.
Taylex's wastewater treatment offering also consists of a deluxe (concrete) system, designed for larger homes (6-10 bedrooms), and the next-generation Maxi Tank system.
Find out more about Taylex sewage systems - taylex.com.au
Features of Taylex systems include, but are not limited to:
The advantages of a Taylex septic system
Taylex septic systems are born of significant industry experience and global research. Some of the advantages of their tanks are:
Being one of the oldest, and largest manufacturers of home sewage treatment plants in Australia, they are experts in the field of domestic wastewater treatment. You can rest assured that by opting for a Taylex tank, quality is the least of your worries.
Taylex builds high-quality products and distributes them at a fair market price. Superb value for money is assured.
Taylex systems are built to last; with great industry knowledge comes an understanding of how to design reliable products. With Taylex, simultaneous performance and durability is a standard features.
All Taylex systems come with a warranty. As a company with an excellent reputation, Taylex is determined to know of, and subsequently, fix any problems that may arise.
With such a strong foothold in the industry comes the responsibility to continue manufacturing products of exceptional quality. This is why Taylex is committed to researching and bringing cutting-edge industry technologies to its products.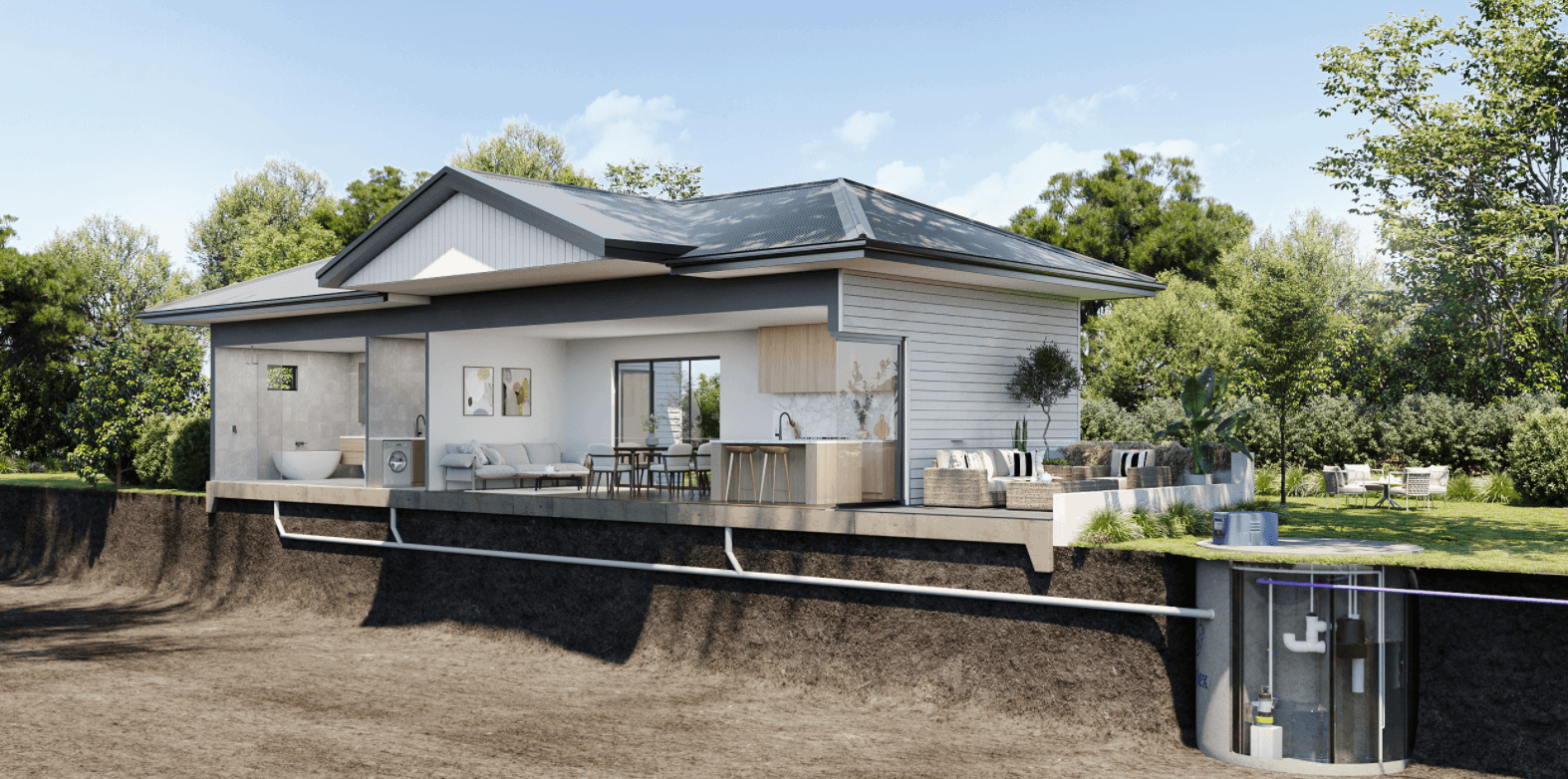 Taylex wastewater treatment systems: how do they work?
The Taylex system's operation consists of four steps:
Wastewater entrance to primary and secondary tanks: household wastewater enters the system's primary chamber. Following this, the liquid makes its way into the secondary chamber. The time it spends in both of these anaerobic chambers facilitates bacterial action to condition it properly before it flows into the aeration chamber.
Aeration: once in the aeration chamber, the ABS uses an air blower to introduce oxygen. The oxygen in the aerobic chamber allows for the bacteria to rapidly multiply and thoroughly mix through the pre-treated liquid, ensuring the complete digestion of organic material.
Clarifier: after passing through the aeration chamber, the liquid flows into the clarification chamber. This is where any settlement of solids remaining in the liquid from the aeration chamber can be further digested on specially designed bio-media sheets.
Irrigation: After the waste has broken down into a water-like consistency, it is passed through an outlet filter prior to chlorination. Through chlorination, the bacteria are removed thus leaving you with recycled water that you may use in your irrigation systems around the home.
Find out more about the Taylex systems at taylex.com.au/whatis
Express Wastewater Taylex Installations
Express Wastewater professionals are fully qualified, licensed and insured plumbers that will always discuss your wastewater requirements to ensure we install the right Taylex wastewater systems for you.
Not only do we install new Taylex wastewater treatment systems throughout SE QLD, but we also provide renovation services or the upgrade of an existing failing system. Taylex's safe, environmentally sound, reliable and cost efficient systems can provide you with a natural way to recycle wastewater into clean, safe water on site!
Choosing our experienced technicians to install your Taylex sewage treatment system will ensure you obtain clean, clear water for reuse as their systems have been proven to produce water that is at least 5 times cleaner than from other treatment systems!
Your local Taylex treatment system specialists
Contact our friendly team to discuss Taylex treatment systems on 1300 770 594 or complete our online enquiry form.
Frequently asked questions
What are the stages of sewage treatment?
Sewage Treatment System Types
What breaks down sewage in a HSTP?