Septic Systems
Septic system installation, repairs & maintenance SE Qld
Express Wastewater Solutions offer tailored septic systems for homes throughout southeast Queensland. Our experienced septic plumbers work with all styles of septic systems from traditional septic tank & trench style systems to septic units with a sand filter, aerated wastewater treatment systems and more.
Whether you're building a house on a rural property, upgrading an existing septic system or need advice on the best solution for your home contact Express Wastewater today.
Book A Septic System Expert Today
Septic tank installation
Express Wastewater Solutions offer a wide range of septic tank systems ensuring that we can provide you with the ideal system to suit your wastewater needs. Every septic system needs to be custom-designed by our specialists to fit your unique property design, your household wastewater output, and the local council specifications.
Our experienced septic plumbers have been working in septic tank, absorption trench, wastewater drainage design and installation for over 10 years. Here are just a few reasons to use our team.
Whilst most plumbers (including rural) will install a septic system at the most once a month, our plumbers specialise in the installation, repairs and maintenance of all styles of onsite wastewater treatment systems. Our highly experienced team know exactly what to do in order to provide you with the best septic tank system for your needs.
We look after everything from the site inspection and soil testing, system design, council applications, to site excavation, installation and testing. Our team provide full project management ensuring the septic system installation runs seamlessly.
Find out more - How does a septic system work?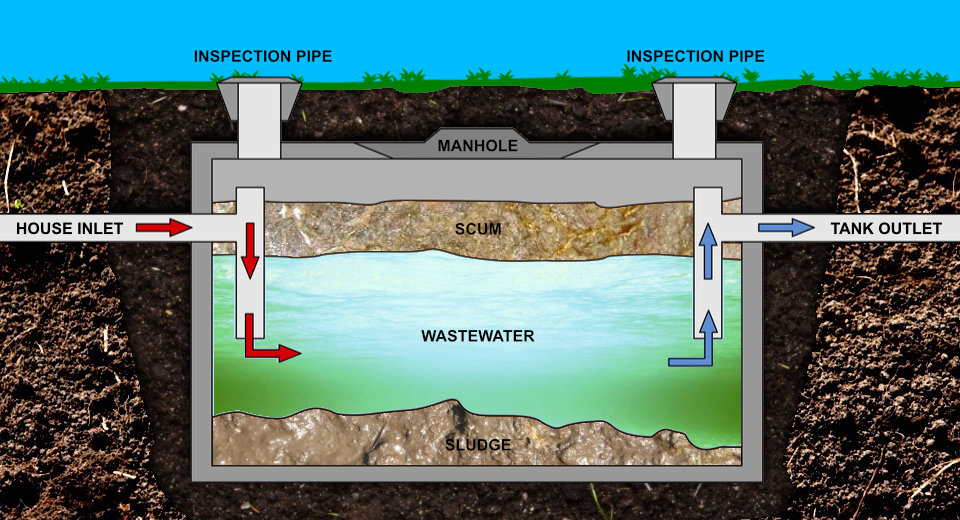 Septic system service
As a property owner with a septic tank system, you are responsible for maintaining the on-site waste management operation to protect the surrounding waterways and adhere to local council requirements. You are responsible for:
Maintaining a leak-free septic tank and sewer drainage system
Attending to repairs in the tank or drains as they are required
Carrying out maintenance and system checks regularly.
Ensuring the tank is pumped out when needed
Protecting and maintaining the absorption field
Adhering to your local council's septic system installation, maintenance & operation guidelines.
Signs your septic system needs expert help
It smells bad - often like rotten egg gas
There is an increase in grass or vegetation growth over the absorption field, in drainage areas nearby or in around waterways adjacent to the property.
Damp or soggy areas or puddles appear around the tank or in downhill areas
Sinks are slow to drain or toilets backup
It has been more than 3 to 5 years since the septic tank has been pumped out
It has been more than 12 months since your last septic system check
If any of the above signs apply to your home septic system contact Express Wastewater to schedule a septic inspection today. It is essential that you act on any of these warning signs without delay to protect the local environment and prevent system failure.
For more information on maintaining your septic system take a look at our information section - How to maintain a healthy septic system?
Broken, leaking, and flooding from a septic tank is one of the single most horrible problems for a home or business. This can happen for a wide variety of reasons, such as poor installation, incorrect pipe sizing, and even ground movement. To ensure that your septic system stays in top (sealed) shape contact our specialist wastewater team to come out today.
Experienced septic specialists
If you are unsure of what type of septic system suits your property's needs or whether your current system is working effectively, contact our team today and one of our friendly staff will be able to answer all of your queries.
Our septic and wastewater experts are highly knowledgeable on a wide range of onsite treatment plant options as well as replacement trenches, septic repairs and more.
Reputable wastewater companies
We source products from the trusted, leading septic tank and wastewater companies and can help you to find the best septic system that suits both your needs and your budget.
Our team utilise the latest in septic system best practices. Many companies use old slotted 90 mm pipes to in absorbtion trenches. The problem with this style of pipe is that tree roots, dirt and other foreign matter can find its way inside the pipe causing it to block up, eventually leading to trench failure.
We will only use specialised 450 mm jumbo trench pipe that not keeps out tree roots and dirt, preventing blockages, but will also gives you a much longer lifespan on your septic system.

Your local septic tank system specialists in South East Queensland
Express Wastewater Solutions is a local family owned and run plumbing company that specialises in complete wastewater solutions, positioning our team as experts in the field in the Brisbane, Ipswich, Sunshine Coast and Gold Coast regions. Our aim is to get your wastewater issue solved in the best possible, most efficient and effective way with the least amount of stress to you.
For all your septic system needs in South East Queensland contact our team today on 1300 722 517 or complete the quick online septic system enquiry form above.
SEPTIC SYSTEMS FAQ
Is a plastic septic tank better than concrete?
Which is better - concrete or plastic septic tanks? Considering a septic system installation for your property? When it comes to septic systems, there are many factors you must consider. You might have considered factors such as the size of the tank and location, but did you know that the materi...
Do septic tanks use electricity?
Septic tank power requirements Septic tanks are an essential part of an onsite septic system as they filter sewage into effluent, which is why it is important to know if a septic tank is powered by electricity. Although a home sewage treatment plant may include electronic parts like an aerobic s...
Septic Tank Regulations QLD
On site wastewater management system guideIf you wish to manage your home's wastewater through an on site septic system in Queensland, there are a number of regulations that must be followed to ensure public health and safety. Now, you might be wondering; what regulations must be considered for w...
For more in depth septic systems information visit our Septic systems Information page