Absorption Trench
Complete absorption trench maintenance and repairs
Maintaining your septic tank and absorption trenches is essential to ensuring your septic system functions smoothly and efficiently. It is essential that the septic trenches are customised to cater for the soil type of your property, the climate in the area (rainfall, etc), as well as the number of people living in your home. Express Wastewater Solutions can repair or replace failed septic absorption trenches on properties across South East Queensland.

talk to our absorption trench team now
What is an absorption trench?
An absorption trench is a long hole that is cut into the ground, fitted with piping, rested on gravel and filled back with topsoil. This trench is then used to release sewage waste from toilets and greywater from bathrooms, kitchens and laundry waste throughout your home.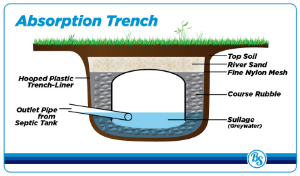 What factors should you consider when it comes to septic tank absorption trench design?
Absorption trenches are built to suit the purpose of the wastewater requirements of the property they reside on, so factors such as the following should be considered when making decisions regarding depth, length and size:
Soil Type - the type of soil can determine how easily the effluent or liquid waste will absorb into the ground, which in turn dictates how long the soakage trenches need to be.
Amount of Rainfall - the amount of rain your property receives can affect absorption rates.
Climate - Whether you have a lot of hot days with an abundance of sunlight or mostly a cool, cloudy climate will affect evaporation rates. ‍
Size of Your Home - a home with 2 bedrooms and 2 residents will have lower levels of wastewater than a large home with a big family. ‍
Location - It is important to install wastewater treatment systems away from buildings, boundaries, groundwater, water supplies such as dams or creeks, and in an area which     won't get driven over, as vehicles and heavy machinery can compact the soil over or around the septic tank or damage absorption trenches. ‍
Plants - what plants and trees are to be located in the area around the sewage treatment system? Experts recommend only planting grass directly over and a few metres around trenches and tanks.
Tip: Avoid running trenches near large trees or plants as the extensive root systems can cause septic trenches to clog and fail.
Speak to our qualified team today to find out more about septic absorption trench design in Qld.
How do you know if your absorption trench is failing?
The soakage trench for your septic tank, if properly installed, should last 15 years or more. Signs that there are issues include:
Unpleasant smells.
Excessively wet areas of grass or garden.
Effluent surfacing.
Pooling of stormwater.
Cars or vehicles have been driving over the area.
Paving or driveways have been constructed over the leach field.
Drains, sink, bath, toilet or shower slow to drain.
Septic tank needs frequent pumping (more than once a year).
Overgrowth of grass or plants in the trench area.
What causes your absorption trench to fail?
Absorption or septic trench failure is when the trench becoming compacted, blocked or collapsed. Factors that can cause absorption trench failure include:
Vehicles driving over the trench area.
Large animals.
Incorrect installation.
Areas of soft soil.
Frequent foot traffic.
Blocked pipes.
Root intrusion, caused by large plants or trees located too close to the trench system.
Too much other water in the area eg stormwater runoff.
Uneven trench base, which causes one area to receive too much water.
Infrequent septic tank cleaning, causing untreated waste to enter the trench system.
Prompt and long-lasting absorption trench repairs
A failed absorption trench could require rehabilitation or even replacement, depending on the severity of the issue. Our team of wastewater specialists can asses your septic system problems, provide practical solutions, and carry out all the repair work required in both an effective and professional manner.

Speak to an absorption trench specialist today
Express Wastewater Solutions can take care of all your septic trench problems quickly and efficiently. We have years of experience working with septic tank systems and wastewater treatment plants contact our team on 1300 722 517 or complete our septic trench repair request form today.

SEPTIC SYSTEMS FAQ
Is a plastic septic tank better than concrete?
Which is better - concrete or plastic septic tanks? Considering a septic system installation for your property? When it comes to septic systems, there are many factors you must consider. You might have considered factors such as the size of the tank and location, but did you know that the materi...
Do septic tanks use electricity?
Septic tank power requirements Septic tanks are an essential part of an onsite septic system as they filter sewage into effluent, which is why it is important to know if a septic tank is powered by electricity. Although a home sewage treatment plant may include electronic parts like an aerobic s...
Septic Tank Regulations QLD
On site wastewater management system guideIf you wish to manage your home's wastewater through an on site septic system in Queensland, there are a number of regulations that must be followed to ensure public health and safety. Now, you might be wondering; what regulations must be considered for w...
For more in depth septic systems information visit our Septic systems Information page