Taylex Septic Tanks
Top-quality septic tanks from Taylex
Taylex are industry leaders in the manufacturing of precast concrete and plastic tanks. A company with experience in wastewater treatment systems dating back to 1969, you can rely on Taylex to provide you with a quality septic system for your premises.
On properties located in unsewered areas, it's commonplace to have an installed home sewage treatment plant. These modern devices treat all the wastewater generated from the households in an environmentally sustainable way by utilising naturally occurring bacteria in the break-down process.
Talk to us about taylex septic tanks today
The benefits of a Taylex septic tank
Taylex septic systems are borne of significant industry experience and global research. Some of the advantages of their tanks are:

Being one of the oldest, and largest manufacturers of home sewage treatment plants in Australia, they are experts in the field of domestic wastewater treatment. You can rest assured that by opting for a Taylex tank, quality is the least of your worries.

Taylex tanks are designed to last; with vast industry knowledge comes an understanding of how to construct reliable products. With Taylex, simultaneous performance and durability is a standard feature.

All Taylex tanks are sold with a warranty. As a company with an excellent reputation, Taylex are determined to know of, and subsequently fix any problems that may arise.

Taylex build high-quality products and distribute them at a fair market price. Superb value for money is assured.

With such a strong foothold in the industry comes responsibility to continue manufacturing products of exceptional quality. This is why Taylex are committed to research, and bringing cutting-edge industry technologies to their products.

Find out more about Taylex septic tanks here - taylex.com.au/septic-systems
What types of septic tanks do Taylex manufacture?
Standard Taylex septic tanks come in a range of sizes, from 4,000 to 22,000 litres. Baffle walls are included in the construction along with a Taylex filter.

Available in pre-cast concrete and plastic material, these tanks are developed with the highest levels of performance in mind, with longevity guaranteed.

Taylex's engineer-designed concrete vessels are covered by a 15-year warranty.

The Taylex Maxi Tank
Referred to by Taylex as a 'giant version of a modern septic tank', the Maxi Tank is highly versatile; along with its function as a septic tank, it's able to be used as part of pump stations and in sand filter treatment systems.

The Maxi Tank is available in two sizes:
has a working capacity of 7,100 litres, with a tank capacity of 8,100 litres.
has a working capacity of 18,000 litres, with a tank capacity of 22,000 litres.
What are the benefits of the Maxi Tank?
The Maxi Tanks large size enables it to hold effluent (wastewater) for a longer-than-normal period of time. Effluent that has been held for a long time is generally cleaner.
And the cleaner the water, the better environmental result. Along with this, this optimal treatment of effluent enables a healthy overall septic system, which in the long-run is financially beneficial for you.
Maxi tanks are large, strong, reliable, and environmentally-friendly. Find out more about Taylex Maxi Tanks here - taylex.com.au/maxitank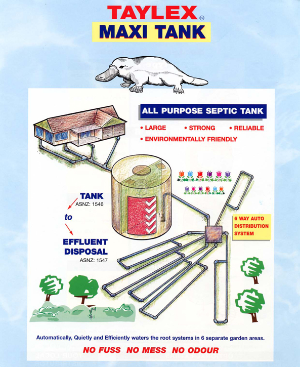 What comprises a Taylex Maxi Tank:
A five-chamber construction made from a single piece of concrete, Taylex Maxi Tanks consist of:

A high water float
Septic system-specific filtration
On request, a submersible pump
A high water-level flashing alarm

Your local septic system specialists
Whether you're after additional information concerning sewage treatment systems, interested in the specifications of the system you're currently using, or would like to receive a quote on a sewage treatment service, call us on 1300 722 517 or complete a booking form.
SEPTIC SYSTEMS FAQ
Is a plastic septic tank better than concrete?
Which is better - concrete or plastic septic tanks? Considering a septic system installation for your property? When it comes to septic systems, there are many factors you must consider. You might have considered factors such as the size of the tank and location, but did you know that the materi...
Do septic tanks use electricity?
Septic tank power requirements Septic tanks are an essential part of an onsite septic system as they filter sewage into effluent, which is why it is important to know if a septic tank is powered by electricity. Although a home sewage treatment plant may include electronic parts like an aerobic s...
Septic Tank Regulations QLD
On site wastewater management system guideIf you wish to manage your home's wastewater through an on site septic system in Queensland, there are a number of regulations that must be followed to ensure public health and safety. Now, you might be wondering; what regulations must be considered for w...
For more in depth septic systems information visit our Septic systems Information page