How Does A Septic Tank Work?
Where septic tanks are located?
A septic tank is a buried water tight container that is typically made from concrete, fibreglass or polyethylene plastic. It is responsible for collecting and storing all of the wastewater from your household plumbing prior to distributing it through a drain field.

learn more about Septic tank installation
Why do you need to collect wastewater in a septic tank?
Wastewater is stored in a septic tank so that the organic material as well as oils and grease can be separated from the water. The organic material will typically reside at the bottom of the tank and turn into sludge whilst the scum (oils and grease) will float to the top of the water.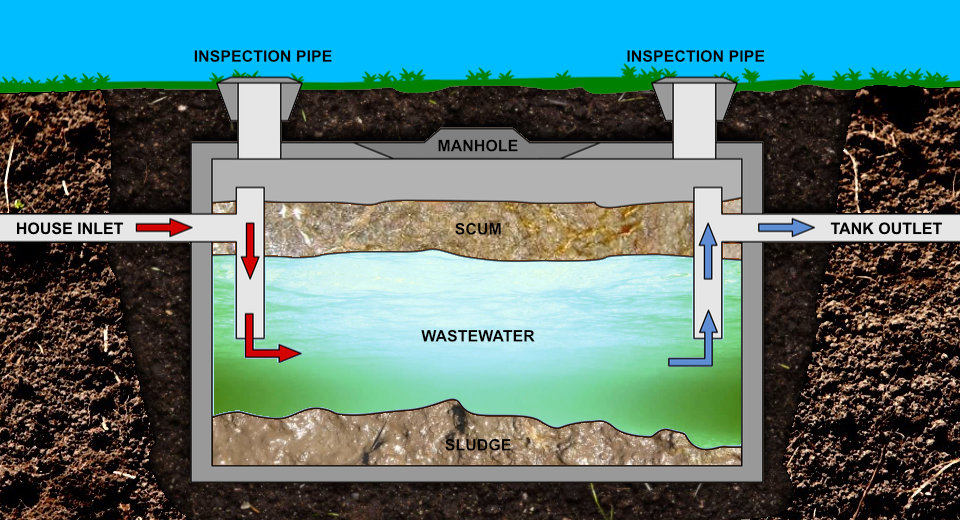 Septic tank maintenance
Septic tanks are often overlooked when it comes to maintenance with owners leaving the tank alone for long periods of time. You need to ensure that you have your tank pumped out at least once a year to avoid the risk of a failing septic system.
What is a failing septic system?
A failing septic systems is when the sludge and scum build up to a point where it makes its way up both the inlet pipe and outlet pipe of your tank. This blockage will then cause your home to be backed up and dramatically increase the risk of flooding.
Benefits of a septic tank system
Septic tank systems have been used in rural areas for decades but more recently are becoming popular in residential applications. A lot more people are now looking into septic tank systems for their new homes to help cut down their water usage.

Talk to a septic tank expert
If you would like more information on septic tanks or would like to have a septic tank system installed then talk to our team today on 1300 722 517 or alternatively you can fill in our online quote form and one of our friendly staff will be able to assist you with your query.

SEPTIC SYSTEMS FAQ
Is a plastic septic tank better than concrete?
Which is better - concrete or plastic septic tanks? Considering a septic system installation for your property? When it comes to septic systems, there are many factors you must consider. You might have considered factors such as the size of the tank and location, but did you know that the materi...
Do septic tanks use electricity?
Septic tank power requirements Septic tanks are an essential part of an onsite septic system as they filter sewage into effluent, which is why it is important to know if a septic tank is powered by electricity. Although a home sewage treatment plant may include electronic parts like an aerobic s...
Septic Tank Regulations QLD
On site wastewater management system guideIf you wish to manage your home's wastewater through an on site septic system in Queensland, there are a number of regulations that must be followed to ensure public health and safety. Now, you might be wondering; what regulations must be considered for w...
For more in depth septic systems information visit our Septic systems Information page