Wastewater Treatment Moreton Bay
Your local wastewater treatment experts Moreton Bay
Express Wastewater Solutions can take care of all your wastewater treatment requirements across the Moreton Bay region. Our team specialise in custom wastewater systems designed specifically for your property. We provide new plant installation, renovations or upgrades of failed treatment systems, as well as repairs and routine maintenance. From Woodford to Strathpine and out to Mount Glorious, our team are your local wastewater treatment plant specialists, we'll get you the best wastewater solution for your needs.
Book A Wastewater Treatment Expert
Getting the right wastewater treatment plant
Not sure of what the next step is or just after a bit more information on sewage treatment plants? We offer a free 30-minute phone consultation with one of our wastewater experts to get you started or work out a practical, efficient solution for your domestic sewage treatment needs.
Keeping your sewage treatment system in top condition
A well functioning wastewater treatment system will ensure the resulting effluent water quality is high, reducing pollutants and protecting the environment in your area.
Domestic wastewater treatment is not a set and forget system, however, managing the plant doesn't have to be hard work. Routine maintenance and a simple monitoring program will make sure the treatment system functions effectively for many years to come.
Scheduling professional maintenance checks as well as carrying out your own periodic reviews of the system will also help to catch any issues before they become major problems.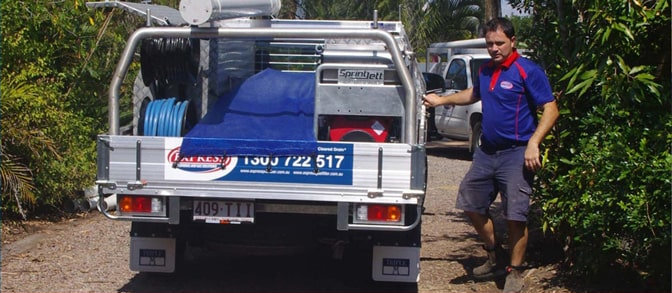 Why use Express for your wastewater treatment needs in Moreton Bay?
There are several reasons you should use Express Wastewater to repair or install your home wastewater treatment plant, but a few of the main ones include:
We do nothing but wastewater treatment services, our team have a wealth of experience and strong buying power .
We offer a free 30-minute phone consult to help you work out what your issues are and how we can best help.
We don't support any single brand of wastewater treatment plants and will recommend the best solution for your property's sewage needs.
We take care of everything , including any tradespeople needed and any local Moreton Bay Regional council on-site sewage treatment requirements.
We will always look for the most efficient and effective solution which often means repairing your current wastewater system rather than upgrading if possible.
We are fully licensed and insured plumbers .
More information on the Moreton Bay Regional Council on-site sewage treatment requirements can be found here - moretonbay.qld.gov.au
Complete wastewater treatment systems Moreton Bay
We're a local family owned company and have the advantage of not being a manufacturer and tied to one brand of wastewater treatment plant. So if you live in Moreton Bay we can offer the wastewater treatment plant that best suits your needs.
Book a free 30 minute consultation with one of our wastewater specialists to get the perfect system for your home or business at 1300 722 517 or complete our quick Wastewater Treatment Plant Booking today.

We can help with your wastewater treatment issues in Moreton Bay.
FAQS
What is the difference between primary and secondary treatment of wastewater?
Wastewater is a part of life - whether it is the water that is flowing down your bathroom sink, the liquids that are coming from your washing machine or the dirty water from your latest dishwashing cycle, wastewater is a big part of household or office waste. But, what happens to it after it make...
Home Wastewater Treatment and Groundwater
Treated wastewater and groundwater are used among many homes everyday for a number of different purposes. Both are generally safe to use, unless they have been contaminated through pollution or incorrect wastewater disposal, which would pose a number of risks for the user. This article will provi...
Can a normal plumber install a wastewater treatment system?
Do regular plumbers have the appropriate qualifications?Are you looking to have an on-site sewage treatment facility installed onto your property, but don't know whether your regular plumber is qualified to complete the installation? Domestic wastewater treatment systems are far more complex than...
For more in depth wastewater treatment information visit our Wastewater treatment Information page
Local Wastewater Treatments in Moreton Bay
Express Wastewater Solutions
Hear From Our Customers
I had been quoted $12,000 to upgrade my septic system. Express came out, quoted and repaired my existing system within a week for a third of the cost. Highly recommend.