Aerobic Treatment Unit (ATU)
Need a qualified and local ATU specialist?
Express Wastewater Solutions are the best choice around! We pride ourselves on being one of the most trusted ATU specialists on offer, with years of industry experience when it comes to aerobic treatment units. If the area you live in is unsewered, it is incredibly important that your wastewater is correctly treated for both your health and the environment. Our wastewater specialists can help find the best ATU option for your needs, meaning a beneficial outcome for both your well-being and that of the environment. Get in contact today to find out what we can do for you!

Book an ATU specialist
What is an ATU?
An aerobic treatment system (ATS) or aerobic treatment unit (ATU), is a self-contained electrical wastewater sewage treatment system. It has similar traits to a septic tank arrangement, however uses an aerobic process for digestion rather than just the anaerobic process used in septic systems. ATUs are designed to treat wastewater from the following places in your home :
Laundry
Bathroom
Toilet
Kitchen
An ATU is also sometimes called an aerobic septic system, however this is actually incorrect. An ATU is a type of home sewage treatment plant (HSTP), and are used on properties that are not connected to a sewerage main. They can also be known as Aerated Wastewater Treatment Systems and are electrically driven mechanical systems.
How does an ATU work?
An aerobic treatment system uses several chambers to treat wastewater in varying stages using biological processes. Each chamber has a different purpose, including :
The primary chamber : very similar to a septic tank, this chamber is where solids found in wastewater go to the bottom and remain there as sludge and scum is collected at the top
The aeration chamber : the partially treated wastewater from the primary chamber is mixed with air to assist bacteria to treat it further
The settling chamber : additional clarification happens through the settling of solids, which are then returned for further treatment to either the septic (primary) chamber or to the aeration chamber
The disinfectant chamber : effluent is then disinfected, usually through chlorination, before being used in irrigation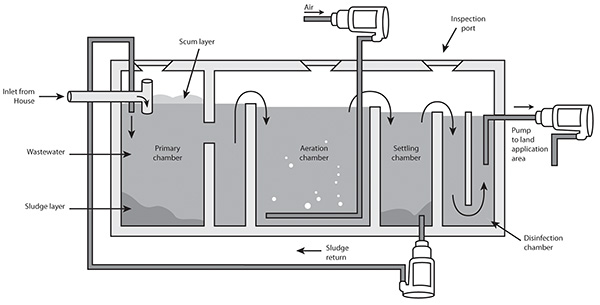 Expert and reliable ATU services
If you are searching for ATU installation, repairs or servicing, look no further than Express Wastewater Solutions. We are qualified specialists in all things ATU, with years of practical experience in the industry meaning there is very little we don't know about wastewater treatment systems. If you are looking for a small yet professional team of wastewater experts to complete your next ATU job, Express Wastewater are your solution!
Benefits of using Express Wastewater Solutions
If you are thinking that an ATU is the best option for your home, you want to know you are dealing with an ATU specialist every step of the way. Express Wastewater Solutions pride themselves on being one of the most trusted ATU professionals around, with our friendly team ensuring :
If for some reason we can't be there on time or notified you of the delay we will provide the first hour of labour for free
We are a truly local family owned and run business
We find the best cost-effective solutions for your wastewater treatment needs
We proudly install and maintain Taylex systems, who are the largest domestic AWTS manufacturers in Australia
We have chosen to concentrate on such a narrow field of drainage and wastewater so we can truly be experts within this field
We are a small team of dedicated professionals who are determined to change this perception of a trade's person one positive experience at a time
We offer a personalised and customised service to each and every person we meet, which ensures you peace of mind that your wastewater system will be exactly right for your needs.

Your ATU industry professionals
If you have some questions regarding an aerobic treatment unit, or are thinking it may be the best system for your home, give Express Wastewater Solutions a call on 1300 722 517 or complete an online job booking form today. We are your local industry professionals when it comes to the best wastewater solutions for every home and office, so get in contact now!

*Picture is courtesy of WaterNSW : https://www.waternsw.com.au/water-quality/catchment/living/wastewater/systems/awts


WASTEWATER TREATMENT FAQ
What is the difference between primary and secondary treatment of wastewater?
Wastewater is a part of life - whether it is the water that is flowing down your bathroom sink, the liquids that are coming from your washing machine or the dirty water from your latest dishwashing cycle, wastewater is a big part of household or office waste. But, what happens to it after it make...
Home Wastewater Treatment and Groundwater
Treated wastewater and groundwater are used among many homes everyday for a number of different purposes. Both are generally safe to use, unless they have been contaminated through pollution or incorrect wastewater disposal, which would pose a number of risks for the user. This article will provi...
Can a normal plumber install a wastewater treatment system?
Do regular plumbers have the appropriate qualifications?Are you looking to have an on-site sewage treatment facility installed onto your property, but don't know whether your regular plumber is qualified to complete the installation? Domestic wastewater treatment systems are far more complex than...
For more in depth wastewater treatment information visit our Wastewater treatment Information page