Wastewater Design
Sewage treatment plan specialist SE Queensland
Express Wastewater Solutions are specialists in wastewater design for homes throughout south east Queensland. Our specialist plumbers carry out comprehensive wastewater reports which include all the details required for a wastewater design submission to your local council including a detailed soil testing evaluation and the full site plan.
We take care of everything in house from wastewater design, soil testing & site assessment, and council applications, to complete supply and installation - sourcing components from reliable brands, coordinating tradespeople, and project management.
Our experts will ensure the recommended sewage treatment plan meets all the required criteria, will effectively manages the needs of your home, protects the local environment, and adheres to all local council onsite wastewater treatment guidelines.
Book a Wastewater Design Expert Today
When is a sewage treatment plan required?
A sewage treatment plan (wastewater design) is required for new unsewered homes and those with current on-site wastewater treatment systems that have been assessed as failing, as well as for system upgrades or replacements.
Specialist wastewater plumbers
Our team of experienced plumbers specialise in on-site wastewater treatment and drainage, which allow us to provide our customers with a more practical approach to designing the appropriate home sewage treatment solution.
We work with a range of treatment options from a septic tank system to aerated wastewater treatment systems (AWTS) and aerobic sand filter systems across a selection of leading brands to provide our customers with a custom sewage treatment option perfectly suited to their land and wastewater requirements.
We can provide onsite sewage treatment system design for:
New home building projects
Treatment upgrades during renovations or home extensions
Converting from a primary system (septic tank) to secondary systems such as HSTP or aerobic sand filter systems.
Restoring failed on-site sewage systems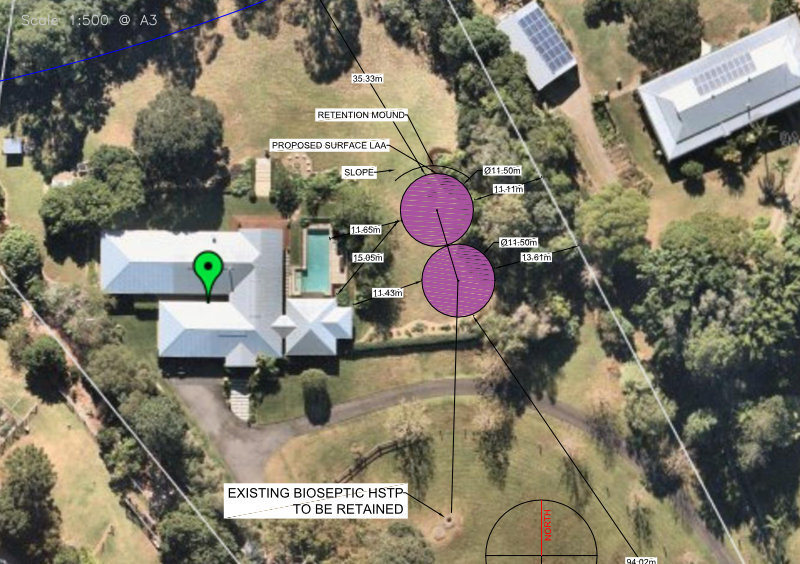 Great reasons to use Express Wastewater Solutions for your sewage treatment plan
We offer a free initial wastewater treatment consultation to get you on the right track
Our team are qualified, licenced plumbers who specialise in practical, effective and efficient home sewage treatment solutions.
We utilise a wide range of brands to ensure you get the very best, long lasting system.
We are a local South East Queensland wastewater specialist, our team understand the challenges this area presents and can provide options for every application.
Wastewater treatment approval process
There are various wastewater systems that you can install on your property, however each and every arrangement has a range of approvals to be obtained before they can be installed. This is to ensure that you, your household, your neighbours and the environment will not be negatively impacted by the system, which can have a huge range of issues if it isn't the correct system for your needs.
Find out more about the approvals required in Queensland here - What you need to know about the home wastewater system approval process in Queensland
What approvals are required for an on-site sewage facility?
Ensuring you have a wastewater treatment system on your property that is correctly designed, installed and working to its full capacity is a big part of keeping the health of you and the environment at safe levels.
In order to install an on-site sewage treatment facility, whether it is an on-site sewage treatment plant or a septic system, you are required to obtain approval from your local government. Find out more about on-site sewage system approvals here - What approvals are needed for an on-site sewage facility?
Local council on-site wastewater guidelines
The local council requirements for the installation of onsite wastewater treatment and septic systems can vary slightly depending on your area. We've put together some handy links to each council in our South East Queensland service area for quick reference. Find out more here - Wastewater installation requirements
Soil testing
Soil testing is an essential step in the wastewater design process as it assesses the percolation and permeability of the ground. This information is used to identify the most suitable treatment system which meets your household requriements, the local council guidelines and protects the surrounding environment.
Find out more about why soil testing is important here - Why testing soil before installing a sewage system is important
Wastewater system project
Take a look at a wastewater treatments system we designed and installed in the Samford Valley, west of Brisbane. - Wastewater treatment project
Your trusted local wastewater design experts
For all your wastewater design requirements across South East Queensland contact Express Wastewater Solutions at 1300 722 517 or complete our quick online sewage treatment plan request form today.
WASTEWATER TREATMENT FAQ
What is the difference between primary and secondary treatment of wastewater?
Wastewater is a part of life - whether it is the water that is flowing down your bathroom sink, the liquids that are coming from your washing machine or the dirty water from your latest dishwashing cycle, wastewater is a big part of household or office waste. But, what happens to it after it make...
Home Wastewater Treatment and Groundwater
Treated wastewater and groundwater are used among many homes everyday for a number of different purposes. Both are generally safe to use, unless they have been contaminated through pollution or incorrect wastewater disposal, which would pose a number of risks for the user. This article will provi...
Can a normal plumber install a wastewater treatment system?
Do regular plumbers have the appropriate qualifications?Are you looking to have an on-site sewage treatment facility installed onto your property, but don't know whether your regular plumber is qualified to complete the installation? Domestic wastewater treatment systems are far more complex than...
For more in depth wastewater treatment information visit our Wastewater treatment Information page