Septic Tank Cleaning & Pump Out
Express Wastewater Solutions are your professional source for comprehensive septic tank servicing and maintenance throughout South East Queensland. Our team of experienced specialists can provide all of your septic tank servicing and maintenance needs, including septic tank cleaning, grease trap cleaning and septic tank pump outs.
We offer servicing for traditional septic tanks, septic tanks with a sand filter, trench systems and Advanced Enviro-Septic Systems. With our professional and knowledgeable staff, you can rest assured that your septic tank system will be working properly and to its optimal performance.
We understand how important it is to carry out regular maintenance of your septic tank, so we strive to provide top-quality septic tank pump-out services and grease trap cleaning on time and within budget. Contact us today for dedicated and reliable septic tank maintenance and septic tank cleaning Brisbane, Sunshine Coast, Logan, Redlands, Moreton Bay and Scenic Rim.
Book A Septic Tank Expert Today
Call us at 1300 770 594 or fill out the form and we will get in touch with you as soon as possible.
Septic Tank Service
At Express Wastewater Solutions, we understand how important it is to maintain the efficiency of your septic tank system. Regular septic tank service can ensure your system is functioning as it should and will help to prevent damaging and costly problems.
We offer septic tank servicing and inspections so that your system continues to run optimally. Our septic tank servicing includes performing sludge test inspections to assess the level of sludge has accumulated and whether a pump out is required.
From performing sludge test inspections to assess the level of sludge that have accumulated and whether a pump out is required, to preventative maintenance, regular septic tank servicing helps to ensure optimal performance and ultimate longevity of the system.
Booking a septic tank inspection is the best way to identify any potential problems with your septic tank before they become serious. So, if you want to keep your septic tank working at its best, get in touch with a professional today to check the health of your septic tank system.
Septic Tank Maintenance
The importance of preventative septic tank maintenance is often underestimated when it comes to keeping any system efficient and functioning effectively. Septic tanks provide an economical and practical wastewater treatment solution but require regular maintenance to keep them working in optimum condition
By carrying out routine maintenance on your septic tank, you can help prevent it from becoming blocked and save yourself from costly repairs or replacements. It's important to ensure that your septic tank is pumped out regularly (approximately every 3-5 years) in order to keep it in good working order and reduce potential problems. .
Keeping up with preventative septic tank maintenance is a great way to make sure your septic tank and its components remain efficient and function effectively for years to come.
Septic Tank Cleaning
Septic tank cleaning is an essential task for homeowners with septic tanks. If not done periodically, the septic system is prone to clogging, and may fail to work properly. Cleaning your septic tank is necessary in order to ensure your family's safety and health.
Our septic tank cleaners perform a thorough cleaning of the interior of your septic tank to remove accumulated tree roots and any other debris. Once cleared, we will conduct a thorough hose and scrub down, as well as inspect the inlet and outlet baffles and lids to ensure they are in good working condition.
Proper septic tank cleaning can help prevent system failures and costly cleanup and replacement of the tank. Rely on the experienced septic tank cleaners at Express Wastewater Solutions to ensure that your septic system is functioning optimally. You can trust us for professional septic tank cleaning services!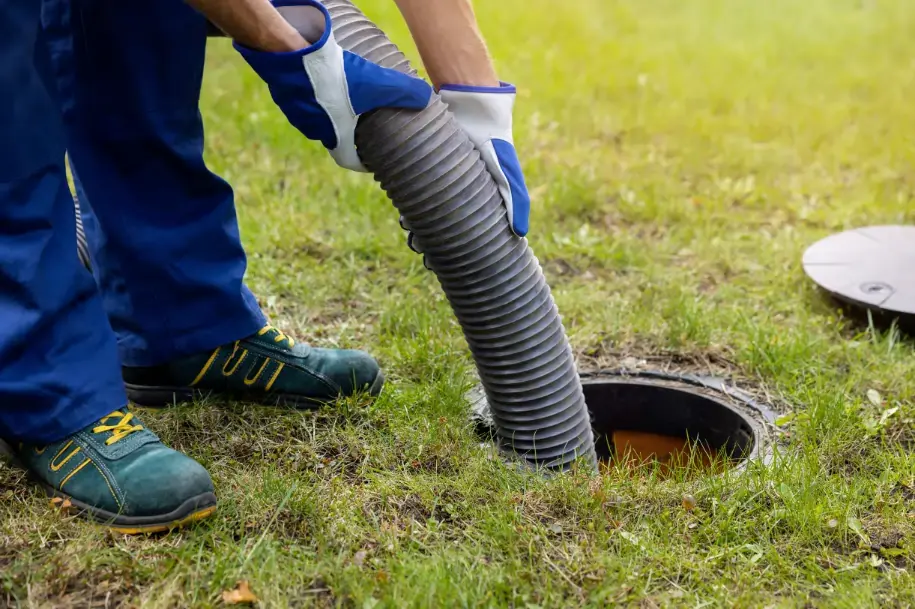 Septic Tank Pump Out
The septic tank collects and breaks down solid effluent, turning it into sludge. This lets the liquid waste part flow safely into underground areas called absorption trenches or leach drains. If not regularly pumped out, this sludge can accumulate and harm your septic system. That's why it's crucial to have a septic pump out, and cleaned, periodically to maintain its proper functioning.
You should pump out the sludge from the septic tank every 2 to 5 years before the septic waste sludge fills up to about 30% of the septic tank's space. Sectic tank pumping should be done regularly in order to avoid septic tank problems such as clogging up the pipes and overflows, which can lead to an expensive repair or replacement, or a damage to your home.
Both septic tank types with and without sand filters require regular maintenance to maintain their functionality and avoid costly repairs. The following are the main maintenance requirements for each type.
Standard septic tanks:
Pumping: Remove sludge, scum and other buildup by pumping regularly every 2 to 5 years
Inspections: Periodic checks identify any damage or obstructions in the drainfield and tank
Septic tanks with sand filters:
Pumping: Use a standard tank to pump out the solid buildup every 2 to 5 years
Sand Replacement: Replace any clogged sand filter as necessary
Check for any damage to the tank or sand filter
Advanced Enviro-Septic systems require more frequent pump outs due to their reduced capacity.
Express Wastewater Solutions offers safe, reliable, cost effective and environmentally responsible septic tank pump out services for residential and commercial applications.
Septic Tank Types & Brands We Service
Septic tank types:
Traditional septic tanks
Septic tanks with sand filters as secondary treatment
The Advanced Enviro-Septic system (AES)
Septic System Brands:
Everhard Septic Tanks
Taylex Septic Tanks
Signs Your Septic Tank Needs to be Serviced
There are a few signs that your septic tank system needs to be serviced:
Unpleasant odour similar to rotten eggs
Excessive growth of grasses or plants around drainage areas or waterways
Wet or puddled areas around the tank, or in downhill areas
Slow drainage of your sinks, or toilets that backup
If you haven't pumped your septic system in over 2 to 5 years, it is time to do so!
It has been more than 12 months since you last checked your septic system
Express Wastewater can schedule an inspection of your septic tank if you notice any of these signs.
Find out more: How often should you pump out a septic tank? and How do you know when to pump out a septic tank?

Local Septic Tank Services Brisbane & South East Queensland
Express Wastewater Solutions is a local family owned and run plumbing company that specialises in complete wastewater solutions Brisbane, Ipswich, Sunshine Coast, Moreton Bay, Logan, Redland, Scenic Rim and Gold Coast regions.
Our aim is to get your wastewater issue solved in the best possible, most efficient and most effective way with the least amount of stress to you. For all your septic tank services in South East Queensland, contact our team today at 1300 722 517 or complete the quick online septic system enquiry form above.
Frequently asked questions
What septic tank maintenance is recommended?
What size septic tank do I need?
When to service a septic system?