What is the difference between sewage and sewerage?
Although it may not be the first topic of conversation at a dinner party, wastewater, sewage, and sewerage are crucially important features to any city waste system. Wastewater is any water that has been tainted by human use, including industrial, commercial and domestic use, and must be treated appropriately to ensure the best outcome for the environment. And, when talking all things wastewater, the terms 'sewage' and 'sewerage' usually pop up along the way.
Contrary to popular belief, sewage and sewerage are actually two different concepts which coordinate together to form a major part of waste systems in every major city across the world. They make up the waste and the structures that leave your home and workplace and flow to a treatment plant… so they are so much more important than you know.
What is sewage?
Sewage is the human waste that leaves your home and flows into the sewers. Sewage is one of three different types of wastewater, as well as greywater and blackwater, which are required to be treated by particular treatment processes to ensure environmentally safe outcomes,
LOOKING FOR LICENSED WASTEWATER PROFESSIONALS

Let our experts help you.
What is sewerage?
In contrast, sewerage or the sewers are the structure in which waste flows through. This generally includes the pipes and drains in which sewage flows through and into a treatment plant or disposal facility. There are systems of sewers found underneath towns and cities which connect to the main sewer, which then drains the waste.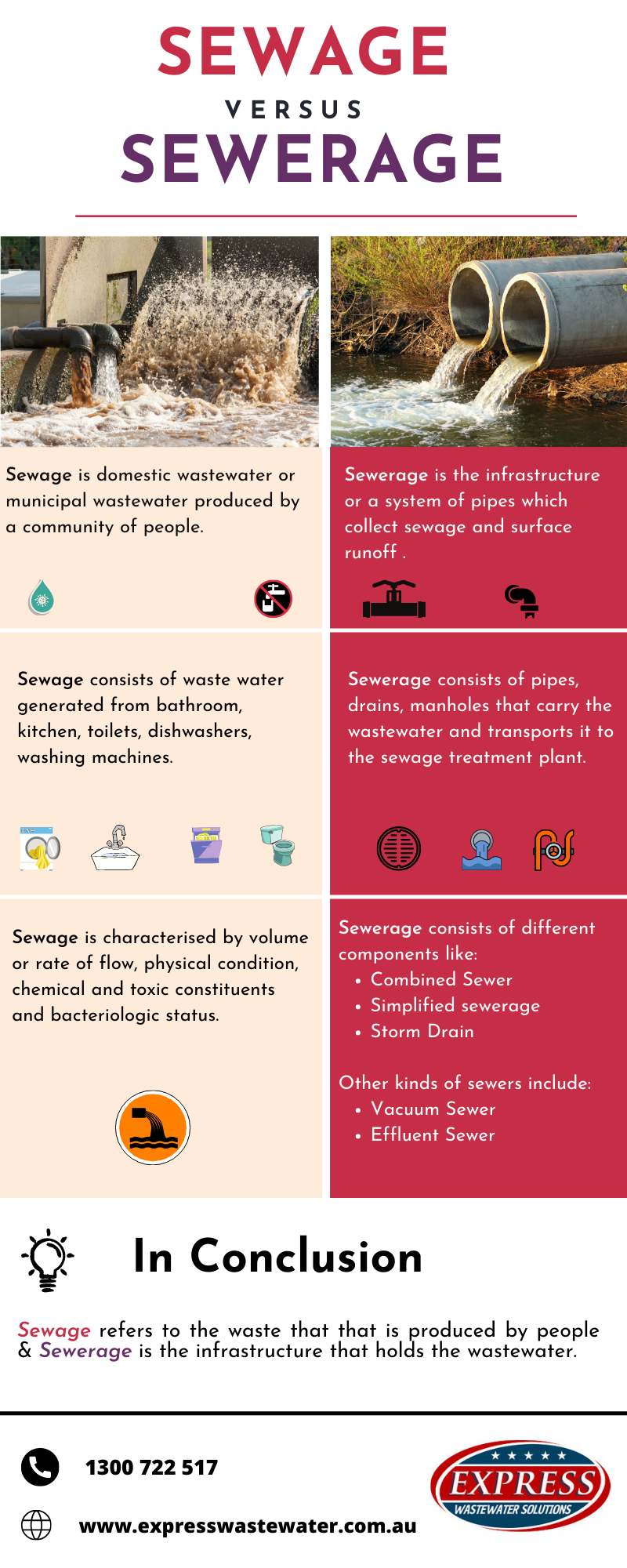 Can sewerage and sewage be used interchangeably?
No! Sewerage and sewage are regularly used interchangeably, however, this is actually incorrect. Sewage refers to the waste that is discharged, whereas sewerage/sewers are the structure that the discharge goes in to. They are definitely different things.
Do you have more questions regarding sewage, sewerage or how you can implement new systems into your home? Give us a call today on 1300 722 517 or complete an online job booking form.
What is the difference between sewage and sewerage?

Let our experts help you.